FROM THE CRATE #1 'Amazing Grace'
In which I review old albums from a 3 crate vinyl haul in 2021. #1 Review of Aretha Franklin's incomparable 'Amazing Grace'
'AMAZING GRACE – AN IRREPRESSIBLE CELEBRATION' – A review by C.C. Howard
At once immediate, uplifting and inviting, Amazing Grace is also, in some ways, relegated to history, to a moment in time, to, perhaps, the end of an era. At the time of its recording, music was emerging from the sixties and morphing into the anything-goes seventies, where records would begin to sell in numbers previously unheard of and where the decade would end in cocaine-fueled disco-decadence and the peddling of a pop-rock template that would make music never again sound quite original. This record, steeped in black history, black spirituality, was born on the back of slavery, oppression and the irrepressible attachment to hope, through predominantly European theology. 'Jesus' features heavily in Amazing Grace, and it's impossible to escape the plaintive tones of the many voices that cry out on this record, both sadly and joyously, for a greater existence. This is not Bach and his 'Great Passions' this is black gospel, a beast that stands proud and defiant. The rhythm of this 'worshiping' is infectious and all-inclusive. It's hard to imagine a more uplifting representation of faith. Equally, when one listens to this, it is difficult to account for any true faith in today's music. Being an atheist, it's hard to reason with the idea that without spirituality in music, perhaps we have no music that moves us at all.
I found this album, along with a few hundred others, in a vinyl crate haul in early 2021. The moment I put it on the turntable, it simply blew me away. Recorded live over two nights in an LA Baptist church in 1972, it showcases the origins of one of the greatest singers of all time, Aretha Franklin, and, without doubt, she is in full flight here, singing gospel spirituals that connect so deeply, that after you hear them, it's impossible not to hear that same sense of innate spirituality in all of her songs. She is flawless. And the boisterous choir behind her, the incomparable rhythm section (Bernard Purdie and Charles Rainey), the clapping and hollering from the crowd, the excitement – everything seems to marry into a showcase of relentless, joyous celebration. In truth, I don't think I've ever heard anything quite like this record before. It really is breathtaking.
The album starts with the pulsating 'Mary Don't You Weep', which creeps up on you, almost like a warning of what is to come. Aretha is going to tell you how it is, and you are going to listen. And the building excitement of everyone in that church becomes quickly palpable, so that it's impossible to escape the feeling that you are there, that you are standing, swaying in the pews, holding your arms aloft and praising the mystical and inexplicable presence that the music is. She embraces and comforts us with the Carole King classic 'You've Got a Friend' (not the only time Aretha would bring to life King's brilliant songwriting) and then takes us for a ride over various traditional and re-arranged hymnals that are sometimes so astonishingly similar to hits of hers like 'Think' and 'Respect', that it's hard not to smile when you begin to understand how intrinsically tied to the history of American music this woman is. She walks proudly in a long line of greats (Ella Fitzgerald, Sam Cooke, Mahalia Jackson, to name but a few) without which it's impossible to conceive of what any music of the last 60 years (the music we describe as 'modern') would sound like.
Every track on this record is outstanding and infectious. The mood oscillates between the emotional preaching hymns to the rapturous rejoicing of the stand-up dancy tunes, which no doubt got people out into the aisles, swinging their hips in praise. I particularly like 'God Will Take Care of You' and 'Wholy Holy', where we hear a little of Aretha's adept piano playing. Surprisingly, the song that least impresses me is the title track, of which, perhaps, I have heard a few too many renditions over the years. Nevertheless, it does nothing to slow the devotional juggernaut this double album is. We're brought home by the last track 'Never Grow Old' a contemplative hopeful spiritual that leaves us with the mantra that we will never die. An absurd notion, but only if you haven't been listening. By this time, if you're not sold on the idea of the magic this music possesses, well, what are you sold on?
There's a moment on this album when we're reminded of Aretha's upbringing, when her father, the Reverend C.L. Franklin, tells us about Aretha singing in their living room as a small child. It's a sobering moment, which, just for a minute, brings us down from heaven, and reimagines the great Aretha Franklin as a cousin, a little sister, a next-door neighbor, as someone in our lives, in our living rooms. The pride in the Reverend's voice is reverent and touching. It's comforting to hear the man who brought Aretha up and guided her life was also one of her biggest fans.
It's important to point out that Aretha didn't need to make this tip-of-the-hat album. She was already a huge star. But we should be grateful that she did. This album isn't just a testament to her greatness, it's a testament to the greatness of American music. It teaches us that faith has context, that music, like love, can be so overwhelming that we can only refer to it as something 'other', something greater, something that offers us hope and celebration in what it means to be human – the magic of being. This album is so much more than just a collection of songs. It's an education. Enjoy it, and if you don't want to hold your neighbor's hand while listening to this, then your heart is made of stone.
(I'm aware these Church concerts were filmed and that a documentary is out about the events. I am yet to see the doco, so please excuse my ignorance on that front. My goal here was to set out to review the album, without the visuals, and I just want to reiterate, that the music, without any question, stands on its own. The music itself is an event. And, gratefully, an event for which we don't need a ticket to still enjoy.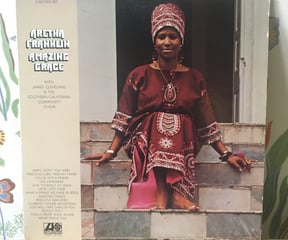 If you would like a free digital copy of the novella 'Lovely Rita Meter Maid' ('So Very Mental' continues!) then click contact below and leave a request in the comment field.
OR if you simply want to sign up to my newsletter to get updates on news, my short stories or my upcoming novels simply submit here. (newsletters will be infrequent) Thanks for your support!